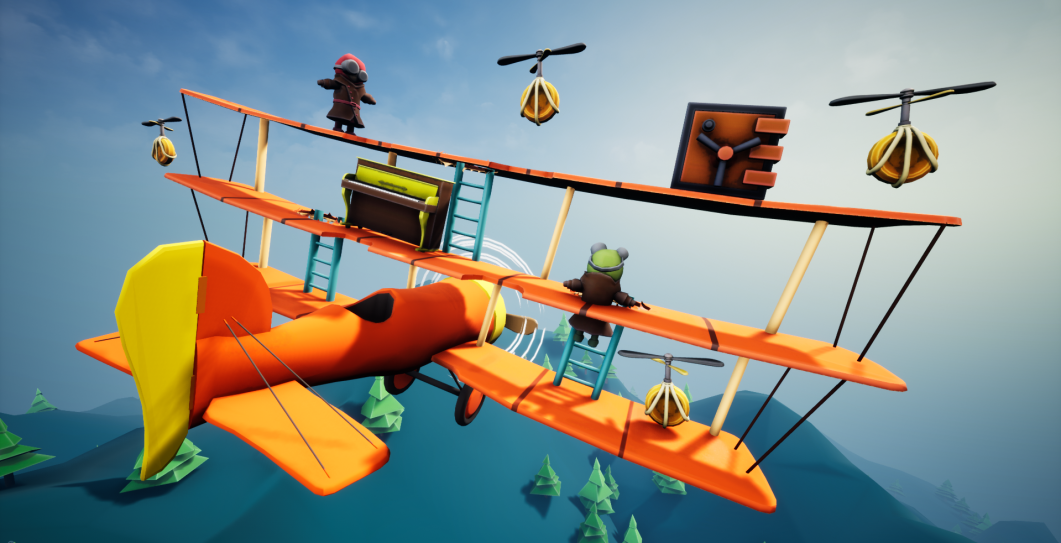 Nice Try Plane
A downloadable game for Windows
Anchors falling from the sky? As a pilot you can imagine this is not a situation you have trained for...
Work together with other a maximum of 3 other pilots (4 in total) in a desperate attempt to keep the plane leveled in a downpour of everyday commodities like washing machines, pianos, anchors and other crazy things while cashing in on that marvelous gold that's hanging in the air! But be careful. Other pilots might share your love of gold...
How long will the plane last before greed overtakes you?
Inspired by the relationship shared amongst siblings around the world. Who get's the TV tonight? Who can have that last sausage? Well... the one who takes it. But greed can have its price and only time will tell who will succumb to their need of individual achievement.
This project was created during the Global Game Jam of 2019
Gamepad controls:

Spam X to kick commodities off the plane
Left stick to move around
B to climb and descend ladders
A to jump
Keyboard controls

SPACEBAR: Kick commodities off the plane
E: Use ladders
A: Move Left
D: Move Right
Credits:
Adriaan Scheepers
- Design
Channing Eggers
- Programmer
Daniel Hoefsloot
- Artist
Geert Cocu
- Programmer
Gonzalo Gigosos
- Artist
Merel Beers
- Artist
Nick Guilliams
- Design
Quido Cornet
- Artist
Radu Teodosescu
- Tech Designer
Rosario Baarh
- Designer
Stefano De Petris
- Designer
Install instructions
Download the zip file, export it anywhere on your computer and then run the .exe file!
Download
Download
NiceTryPlane-Release1.2.0.zip
131 MB